It had been a really busy day, and I hadn't been very available to listen well to my children and offer the connection they needed. Just before dinner my four-year-old son, feeling disconnected from me, hit his little sister over the head quite hard. I couldn't get there in time to physically stop him, and my daughter ran to me screaming. While I held her, I looked over to my son, sitting by himself looking so hurt, guilty, and upset too. Knowing that he too, needed connection, a rush of love and compassion for him welled up within me, and I asked if he wanted a cuddle too. He refused, too hurt to come close.

So as soon as I could, I went over to him and pulled him up into my arms. I looked into his eyes, still feeling so much love for him, and said playfully, "I'm going to give you a kiss!" He refused, but I saw a hint of a smile, so I continued, saying, "I'm going to kiss all the hitting out of you!" and attempted to kiss him on his head, belly, arms, and legs. This really got the laughing going, so I continued for another minute or so, until he suddenly stopped and started pinching me! 

Luckily I was still able to listen, and keep setting the limit playfully, so I continued in the same way, "I'm going to kiss your hands, and kiss all the pinching out!" Once again there was much laughter, a few more half-hearted attempts on his part to pinch me, and lots more of me, "kissing the yucky stuff out!"

Soon my daughter joined us, and all three of us were laughing together, the hurt forgotten. My son needed to reconnect, and the act of hitting his sister was a big red flag waving a signal for help. We re-established connection quickly through laughter, and he was back to his usual happy, kind and cooperative self. Needless to say there was no more hitting or pinching that evening, and my son was able to reflect on the situation, his ability to think restored.
Lyra L'Estrange, Certified Instructor in QLD, Australia.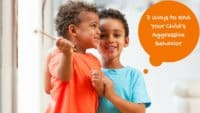 Are you looking for some more ideas on how to end aggressive behavior?
Get your free video tips now.