Raising Happier Teens and Tweens – Staying Connected Come What May, with Kirsten Nottleson and Ravid Aisenman Abramsohn
6 Thursdays beginning January 11th, 11:00 AM US Central, 9:00 AM US Pacific, 12:00 AM US Eastern, 5:00 PM UK
$347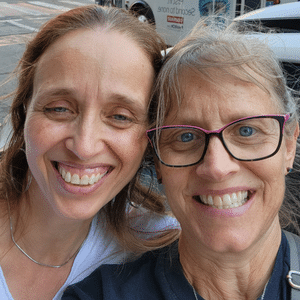 You are a good parent. Your tween/ teen is a good kid. Really.
But it can be hard to remember when…
Snuggles on the couch have been replaced by shouting and slammed doors.
They are angry more often than not, you are rarely sure why, and they're convinced it's your fault.
They are preoccupied with their friends and phones and have little interest in you or other members of the family.
They are mortified to have you drop them off at school, yet expect you to be on call at a moment's notice.
Their behavior can seem erratic and unpredictable.
They have trouble concentrating on the tasks (school, chores) before them and cooperation seems unattainable.
The distance between you and your child seems to be getting bigger.
No matter how hard you try, you can easily lose your cool or become distant yourself.
We can build new bridges between our children and ourselves, so that life can be good for the both of us together. It's time to hone our connection skills to learn how to stay thoughtful and stand by them, no matter what, through the worst of their feelings (and ours.)
This course, based on the Hand in Hand Parenting Approach, will help you explore how to build strong connections with your tween/ teen that will sustain you both well beyond any upcoming storms in your relationship while giving you the support you need to navigate your own feelings of frustration, confusion, and hurt.
This interactive course includes:
A weekly mentored support call with Ravid and Kirsten. You and a small group of parents will get practical, emotional support for the challenges of being a parent to tweens/ teens when big feelings come up for you, about parenting at this age.
Brain science, developmental information, and insights that will help you to understand your tween/ teens behavior and the emotions that are behind it.
Five life-changing tools that enable you to reach your tween/teen and make your relationship stronger and more meaningful.
Access to an online classroom with videos and reading materials that you can read on your own time, that you can refer back to as long as you like. They are yours to keep after the course is over.
The support YOU need and deserve in order to be able to see and remember the goodness of your child again and to navigate your relationship with more confidence.
Loads of real life examples from the mentors that will help bring the ideas we are sharing to life for you… We really HAVE been there with our own kids!
Time to put into practice what you are learning, ask questions, and get feedback and suggestions to deepen your understanding of the tools.
A discussion thread where you can share triumphs, struggles, ask questions, and get feedback.
We are, Ravid, mother of two daughters (20 and 25), and Kirsten, mother of two sons (18 and 24.) We both raised our children from their early years, through adolescence, and beyond using the Hand in Hand tools. This approach helped us stay sane through the storms of those years. Our families would not be the same without the knowledge and support that this approach gave us.
Our wish is to share this with you.
Register here https://www.handinhandworkshops.com/events/raising-happier-tweens/
You can reach Kirsten for questions, more info, or possible scholarship funds here https://www.handinhandworkshops.com/
**Parent Club Community members get 25% off!