Transform Family Life With Listening; A Ten Day Listening Challenge
10 Days beginning July 6th, 12:00 AM - 11:59 PM PST
free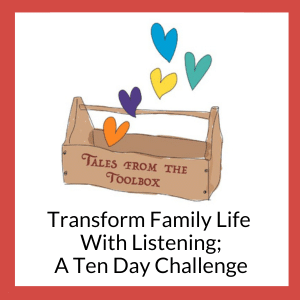 Listening well is basically a superpower.
Good listening builds relationships, supercharges your capacity to do whatever needs to be done, and is one of the most underrated skills out there.
As a parent, it is the key that unlocks a deeper layer of connection with your child (and from there, lots more cooperation and fun).
And being listened to well, yourself, can be life-changing.
Unfortunately, most of us rarely experience being listened to without interruptions, judgment or advice. And if you haven't experienced it for yourself, it can be hard to know what you're aiming for, or even why it matters.
Hand in Hand Parenting is built on the idea of listening. Listening to our children, and listening to each other. We know how much difference it can make.
And we know that, like anything, it's a skill that can be learnt and developed.
This July, Alice, Belynda, Lara, Kelly, and Stacy, Hand in Hand Instructors and hosts of the Tales from the Toolbox Podcast are delighted to bring you a Ten-Day Listening Challenge; a chance to level up your skills and experience the power of listening for yourself, all within a safe and supported community.
We're confident that in just ten days you'll see a positive impact for you personally and in your family life. Because when parents are well supported, everyone benefits.
We know that summer schedules (for those in the northern hemisphere) are hectic so we wanted to bring you this oasis of calm, right when you might need it most. And if you're in the middle of southern winter, then we hope that this opportunity warms your heart in really meaningful ways.
Every day for ten days, beginning 6th July, you'll learn more about the power and practice of listening, be invited to participate in micro-challenges to build your skills, and be part of a dedicated space where you can set up listening exchanges with other parents. We're even throwing in some live calls so that you can try out our tool of Listening Partnerships with experienced hosts to guide you.
However much of this challenge you join us for, you'll find lots of support along the way. It's a great opportunity to get started if you haven't yet had a go at this tool for parents, and if you're already confident it's a wonderful chance to meet lots of potential new Listening Partners and get a boost of daily support for ten days.
More good news – it's free!!!
We start on Thursday 6 July. Join us.