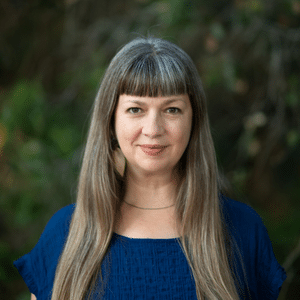 Heidi discovered Hand in Hand after searching for a parenting approach that was in alignment with her belief that children deserve to be treated with respect and kindness and that they need a trusted caregiver to share their big feelings with.
Heidi says, "After a traumatic birth with my son and a challenging first year of adjusting to motherhood, I was searching for a parenting approach that would help me become the parent I wanted to be.  I read many books and researched online. When I finally found Hand in Hand Parenting, I knew I had found the tools I needed to be profoundly connected and present in my mothering.  It became clear to me that by learning to parent our children peacefully and respectfully, we could begin to change the world for the better. The Listening Tools are really life changing! I was able to find support for myself which made me better able to support my son emotionally."
Parenting is a big job, and Heidi believes that we all deserve support along the way. She is passionate about sharing the Hand in Hand tools with parents and offers talks, classes, and support groups to her community. (Click here for list of events)
You can see some of the blog posts and articles that Heidi has written on our website here. You can also reach her via email at [email protected].
Heidi also offers an ongoing support group in Petaluma if you are interested in connecting with her in-person!
Heidi lives in Petaluma, CA with her husband and son. Currently she and her husband own a family acupuncture clinic and she is co-founder, musician and teacher with Animal Music, a popular kid's music program on a farm near her home.
"Heidi is amazing, both as a Hand in Hand Instructor and a human being. Her non-judgmental nature, her deeply felt compassion and her expertise in the Hand in Hand approach are gifts that she shares generously. She also has a great sense of humor which helps lighten the mood when appropriate. She can meet you where you are and provide helpful and loving support. Her class helped me to have an even stronger connection with my children and be better able to sense when that connection is in need of attention. The Hand in Hand tools continue to be helpful as well. I highly recommend working with Heidi, you will be amazed!" -Jenna Hales
"I have known Heidi for nearly five years both professionally and personally and recommend her in the highest regard. Over the years I have greatly benefitted from Heidi's embodied parenting techniques, having done Hand in Hand trainings with her as well as having seen her skills in action at many family and friends' social gatherings.
The deep and practical wisdom she brings has without a doubt enhanced the ways that I have been able to effectively communicate and interact positively with my two young daughters. In both practicing and teaching parenting skills, as well as in her daily life as a mother and rock star, Heidi is loving, direct, fun, firm, present, intuitive and joyful. I recommend her to anyone who is looking to gain greater applicable wisdom in parenting, with everything that it brings, as well as in being a better person on the planet. I can already hear your future self-joining me in proclaiming, "Heidi is AWESOME!"
Tim Talbott