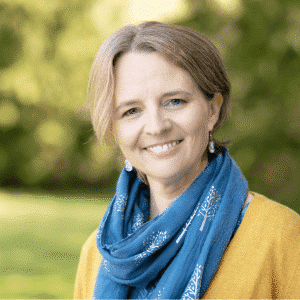 Kirsty lives in Kent in the UK and is mum to two beautiful children born in 2011 and 2015.  She is also 'mum' to a cheeky young dog and two very sweet rescue cat brothers. 
She is a clinical psychologist specialising in child and adolescent mental health.  She is passionate about promoting emotional well-being and resilience in children, and the prevention of mental health difficulties.
"I was therefore delighted to come across Hand in Hand parenting as it gives practical and emotionally intelligent tools to parents to support them in the nitty gritty of how to parent in a way that promotes life-long well-being and resilience.  The tools help us to build our emotional connection and delight in our children, support them with their feelings, use play to connect and to manage difficulties, set kind and loving limits to difficult behaviour and get emotional support as parents.  Moreover, the Hand in Hand approach is supported by well-established psychological and neuroscience research about the crucial role of emotional connection in the development of children's positive well-being.
It has been immensely valuable in my own parenting and has given me a map, support and encouragement to parent more and more consistently in a way that puts connection at the heart of my parenting, especially in those difficult moments!
I love teaching the Hand in Hand tools to parents both in group courses and in individual consultations.  It is a simple and powerful approach which I have seen has helped so many families in such positive ways.  It is really heart-warming and enlivening to work with parents and see what a difference these tools make to them.
I also love working with parents on understanding and untangling their own triggers and reactiveness around their children, where that comes from in their past experience, and how to heal and move forward from these unhelpful, often repetitive patterns.  I know how hard it can be to have the best intentions and then end up behaving towards your children in ways that you regret! 
I have a particular interest in trauma both in parents and children, and in helping children heal from birth trauma.  I also have a great interest in working with parents along the spectrum of childhood emotional neglect.
I offer a warm and compassionate approach and my professional work very much arises out of studying and practicing all I offer from the inside-out and applying it in my own life.  I know how hard parenting is and I am so grateful for how much my family and I have benefitted from Hand in Hand. I have a deep desire to share this with other parents so they and their families can benefit too. It is truly transformative! "
 "Kirsty has changed my family's life! Since learning about Hand in Hand parenting on Kirsty's course, I've completely changed my view and attitude to parenting. It's still early days, but I now better understand that by building connection with my children, every day struggles are beginning to diminish and there is growing harmony in our home. Kirsty is so calm, confident and warm, I feel like I could tell her anything without judgement. Kirsty shared her own examples of parenting struggles which were really helpful. She's been through it all and her genuine love and belief in the Hand in Hand approach really shone through in her teaching. I'm sad the course had to end."

"The course was amazing. The sessions themselves were so helpful to sit and reflect on myself and me as a parent, and to share our experiences with a group of like-minded parents. And the tools I took away from it were something else – even after the first week I felt a huge increase in my connection with my son, particularly through special time. I've also made a listening partnership through the course, which I hope will be successful for both of us for a long time. And of course Kirsty herself, who has been a calming influence in my life and also a great demonstration of how hand in hand parenting can really work."
For more information on Kirsty, her courses and consultations, please visit her website: www.kirstypakes.com and contact her via email. 
Here's an article from Kirsty on sibling rivalry, setting limits and staylistening: