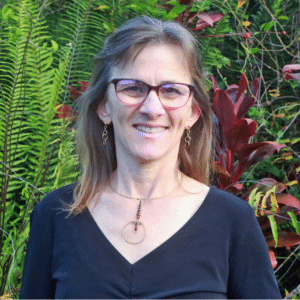 When Muftiah found Hand in Hand Parenting, she felt an immediate resonance with the approach. The blend of support for the parent, tools for connecting with children, and tools for handling emotional moments are the perfect trilogy. In it, Muftiah unlocked her passion for supporting other parents in their parenting journey.
Muftiah is a Licensed Marriage and Family Therapist who has a background in helping children and adults recover from loss and traumatic experiences. After her daughter was born, she wanted to deepen her understanding of how to support what the literature calls "secure attachment" in children. Hand in Hand Parenting offered concrete tools for achieving this. She completed her instructor certification in 2015.
"I wanted to learn how to sustain a connection with my child as she grows up and how to help other parents do the same. When the concepts and listening tools taught by Hand in Hand practically fell into my lap through a serendipitous meeting with a Hand in Hand instructor, I was thrilled. Here was a model that was well-grounded in attachment theory and what science knows about emotions and the brain, and it taught a way to nurture the parent-child connection and repair it when it breaks." And about Listening Partnerships, which are at the heart of the Hand in Hand approach: "We must avail ourselves of the same thing we strive to do for our children: relieve emotional tension so that we can receive love, heal pain, think clearly, and connect with our loved ones."
Muftiah enjoys giving talks to parent groups, teaching Hand in Hand classes, and leading support groups for parents. She has a private psychotherapy practice and loves to work with parents and families. She has a special interest in working cross-culturally and offers services in English and Spanish. Her own multi-cultural, biracial family is also an inspiration to support other families from diverse backgrounds who encounter oppression in its many forms in our society.
Here are some comments from participants in Muftiah's talks and groups:
This is the most positive, whole-person parenting approach I've ever seen.—a therapist and parent in Santa Cruz, CA, USA
I no longer feel like I am 'losing control' as a parent.—a parent in Santa Rosa, CA, USA
Muftiah is the perfect leader for this revolution!—a parent in Sebastopol, CA, USA
You are so great at what you do. You have a gift.—a parent in Sebastopol, CA, USA
Muftiah leads classes and support groups internationally via Zoom and provides psychotherapy to residents of California.  She is currently living in Hawaii. She can be reached by phone at: (707) 583-2332 or email: [email protected].