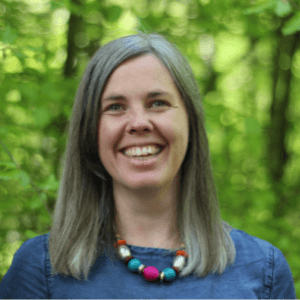 Pamela lives with her partner and their two children in Belfast, Northern Ireland. Apart from her work as a Hand in Hand Parenting Instructor, Pamela's background is in Public Health and Health Promotion. She works for a charity in the field of alcohol and other drug prevention, with a particular interest in preventing substance use amongst young people. 
From Pamela:
"I discovered Hand in Hand parenting after my second child was born. This was a challenging time for us as my older daughter struggled with the transition to having a sibling. Hand in Hand gave me such a beautiful understanding of how emotions work and I immediately found more compassion for my children and myself. I also found the practical tools I needed to strengthen my connection with my children and find laughter and fun amidst the mayhem of being a parent.
When I found the courage to try Listening Partnerships I realised how life-changing Hand in Hand Parenting could be. I was able to loosen the knots that were causing tension in our family and gain insight into my own gifts and challenges and their roots in my childhood experiences. 
I decided to become a Hand in Hand Instructor because I wanted to share these life-changing tools with other parents and see the Hand in Hand community grow in my own area and across the island of Ireland.
Life used to feel very chaotic and out of control but the Hand in Hand Parenting tools have helped me face our family's challenges head on and find connection again. Things still get tough but now I have a framework to understand what is going on and the tools help to keep me on track when I come across the inevitable parenting challenges!"
Pamela provides online and in-person classes and support. Her areas of expertise include solving parenting problems with play, helping with sleep struggles in children and babies, school struggles, sibling rivalry and supporting parents to talk to their children about alcohol and other drugs.
What Parents are saying about Pamela's classes:
"I found the class eye-opening both in terms of my son's needs as well as my own. The tools have already helped me with my 23-month-old who now lights up at the mention of "Special Time" and has asked his dad to do it too. Pamela is a fabulous instructor: compassionate, knowledgeable, and skilled in fostering a sense of community and intimacy despite the fact that we were all miles apart!

-Susan, online Starter Class participant

"Hand in Hand Parenting and Pamela's Starter Class has been and is life changing in our family life, in my life and in my child's life. There are still tough days, but having tools that I understand and have analysed and tried within a support group has really equipped me with confidence that I'm doing the right thing for myself and my family."

-Amie, Mum of a 3 year old.

"I have gone to Pamela's Starter Class and it's been such an eye opener. I'm not saying that I'm getting it right all the time but I'm certainly getting it right more often now and I feel I understand my daughter's outbursts much better.  Pamela has taught me tools to help connect with my girls and help them through big emotional meltdowns. I love following her page and how she summarises a child's feeling to a level that we adults can understand. Please check out her page and see if you can identify with those ideas of parenting. I'm so glad Pamela invited me along to this fantastic journey of parenting "

"I am so glad we made the investment. I feel really encouraged and motivated in my parenting."

"I was lucky enough to do a parenting course with Pamela and it was AMAZING! This is parenting so you don't hate yourself, reproduce patterns or find yourself issuing threats or other manipulations to deal with difficult behaviour. I'm evangelical about this parenting approach."

"Thank you for helping me with my daily parenting struggles. Thank you for all the useful tools relating to your own personal experiences and for providing me with a fabulous group of people to exchange good and bad with, but most importantly laughter and a listening ear. Forever grateful."
Contact Pamela:
Email: pamelaq@handinhandparenting.org
Website: http://www.pamtheparentcoach.com
Facebook: fb.me/PamParentCoach
Instagram: www.instagram.com/PamParentCoach