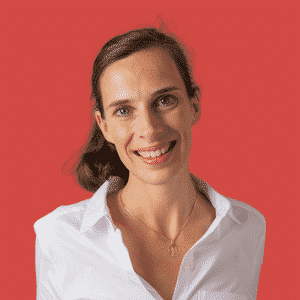 Facebook and the magic of its famous algorithm: this is how everything started for Sophie on her journey to becoming a Hand in Hand parenting instructor. 
While frantically scrolling on social media, looking desperately for parenting tips, Sophie came across a few quotes from Patty Wipfler, Hand in Hand founder, that felt just right.  
The promise of getting more peace in her busy family life by just including some simple listening tools in her daily routines stroke a chord with her. 
At that time, as a mum of 5 under 10, Sophie was starting to bitterly realise that her latest professional training as a home organiser might not be appropriate to survive the highs and lows of her daily life with her beloved but strong-willed children in a time of lock-down.
Like many mums, she realised that
– Her children were increasingly pushing her buttons despite the constant care she was giving them.
– In the middle of COVId19, the pressure was skyrocketing, and she was finding it hard to enjoy her family. But she felt at the same type that she was not allowed that feeling as the rest of her life was in a pretty decent place.
– She was navigating randomly between different parenting styles and could not make her mind, and with no surprise, her children were sometimes looking equally lost.
– On a few occasions of massive tantrums from her son, she had almost lost her mind and had felt guilty about it. 
Of course, she had read (too many?) books about parenting, paid online training to trick her toddler's bad behaviours, and heard a lot of unsolicited advice from people around her.
Some of that had helped, but after ten years being a mum, it was time to admit that
– She would never be able to process the thousands of contradictory parenting tips that Instagram and Facebook were pouring on her feed every second of the day, 24/7.
– Most of the solutions suggested by renowned experts and other parenting Instagurus were just plasters to fix a behaviour but were not addressing the underlying issue. In other words: it was not working long term with her children.
– She could not stand people telling her what to do when one of her children misbehaved. And her feeling of isolation while feeling unable to see the wood for the threes, was at his worse. 
 With Hand in Hand, she discovered that her feelings and the situations she was facing were much more common than she had imagined. She learned that all her feelings were valid. She also discovered that listening was compelling in making the best decision for her family and finding her parenting style.
She had a few breakthroughs through the reading of the book Listen (written by Patty Wipfler and Tosha Schore)  and the Starter Class she attended, which resulted in a shift of dynamics in her family.
Talking and being listened to while evocating her darkest moment helped a lot. Gradually, she started seeing her children's challenging behaviour with curiosity instead of despair. And finally, she started to thrive in the company of her children again. 
As Sophie says: "This is the secret I discovered at Hand in Hand: as a parent, what matters is to focus on nurturing the connexion with your children, to ask yourself every day ", How do I feel", and to  stop broadening your library of parenting quick tips and fixes helplessly." 
Working part-time as a business analyst in the energy sector, Sophie has decided to devote the time she does not spend with her children to spreading this secret in her community.
Since becoming a Hand in Hand Instructor, she has given talks and run parent support groups and starter classes amongst her expat community in Dubai. 
Having lived abroad with her family for the last 15 years, she loves supporting expat families. As a mum of four boys (and a pre-teen girl), she is interested in helping parents raise resilient boys and addressing pre-teen connection challenges. 
 Sophie has a master's degree in Marketing and Finance from ESCP Europe.
She lives in Dubai with her husband Romain and her five children. 
 To connect with Sophie and get her updates: 
Podcast : Hand in Hand Parenting avec Sophie, available on  on all major platforms
https://www.instagram.com/handinhandavecsophie/
www.handinhandparentingavecsophie.com
Hear a message from Sophie: https://youtu.be/QlACgkV7HZ8
Facebook et son fameux algorithme : c'est grâce à lui que tout a commencé et que Sophie est devenue instructrice en parentalité Hand in Hand.
C'est en scrollant, désespérée, sur les réseaux sociaux, à la recherche de l'ultime conseil de parentalité que Sophie est tombée par hasard sur quelques citations de Patty Wipfler qui lui ont tout de suite parlé.
Le concept d'inclure 5 outils d'écoute dans son quotidien pour rendre sa vie de famille plus sereine avait de quoi la séduire.
A cette époque, maman de 5 enfants de moins de 10 ans, Sophie commençait doucement à réaliser que sa dernière formation en Home Organising allait sans doute s'avérait bien insuffisante pour survivre à une vie de famille aux allures de montagnes russes émotionnelles.
Surtout avec des enfants au caractère bien trempé. Et sachant que le premier confinement lié au COVID venait de commencer.
Comme beaucoup de mamans, elle avait cette impression grandissante que :
–  Ses enfants avaient trouvé une façon assez unique de lui faire perdre sa patience et ses meilleures intentions, en dépit du soin qu'elle leur apportait.
–  Au milieu de la crise du Covid, la pression commençait à dépasser les bornes de ce qu'elle pouvait endurer : au quotidien, il devenait compliqué de vraiment apprécier les moments passés en famille – mais il était compliqué de se l'avouer à elle-même puisque le reste de sa vie allait plutôt bien.
–  Elle naviguait d'une approche parentale à une autre sans trop de conviction, ce qui laissait ses enfants souvent aussi paumés qu'elle.
–  A quelques reprises, elle avait failli dépasser les bornes avec son fils, et ne s'était pas sentie très fière après coup.
Alors bien sûr, des livres sur la parentalité consciente et plus ou moins bienveillante, elle en avait lu. Des formations en ligne qui promettaient la fin des colères des enfants et le début d'une vie de maman cool et épanouie, elle en avait acheté. Et elle avait aussi entendu beaucoup de : « Tu devrais essayer xxx … » de la part de son entourage.
Certaines astuces avaient plus ou moins fonctionné, mais après dix ans dans le métier de maman, il était devenu évident que
–  Cela tiendrait de l'impossible de retenir et appliquer les milliards d'astuces parentales qu'Instagram et Facebook faisaient apparaitre chaque jour dans son flux.
–  La plupart des solutions proposées par les « experts » en parentalité et autres gourous des réseaux sociaux se concentraient plus sur le comportement de l'enfant que sur sa cause, ce qui les rendaient rarement efficaces à long terme.
–   Elle était devenue allergique aux conseils non sollicités qui lui arrivaient au sujet de la façon « juste » de gérer sa famille et bouillait intérieurement face à l'isolement et le sentiment constant d'être le nez dans le guidon.
Avec Hand in Hand, elle découvrit qu'elle était loin d'être la seule dans cette situation. Elle sentit aussi que le fait d'être écoutée, sans jugement, et sans être interrompue, était vraiment puissant pour prendre du recul et être à même de prendre les meilleures décisions pour sa famille.
A la lecture de Listen ( le livre de l'approche écrit par Patty Wipfler et Tosha Shore), et en participant à la Starter Class Hand in Hand Parenting, les choses commencèrent à changer, tout doucement. Une nouvelle dynamique apparaissait dans sa famille.
Être capable d'évoquer, sans tabou, les moments les plus durs de sa vie de maman, aida beaucoup. Entendre le témoignage d'autre parents en situation de galère, lui permit quelques déclics. De fil en aiguille, elle réussit à percevoir différemment les moments compliqués avec ses enfants : de déçue- voire désespérée, elle devint curieuse puis capable de mieux les accompagner. Et enfin, elle retrouva la joie de passer du temps en famille.
Comme elle le dit : « Le secret que j'ai découvert à Hand in Hand est simple : vouloir ajouter en permanence des nouveautés dans sa bibliothèque de « trucs et astuces parentaux » est mortifère.
 Ça tourne rapidement au perfectionnisme, on a le sentiment de ne jamais être à la hauteur.
 En revanche, se concentrer simplement sur la relation avec son enfant, et se donner pour but de la faire grandir en écoutant mieux et plus souvent  : c'est là qu'il convient de concentrer ses efforts. Ça suffit, et paradoxalement, c'est déjà beaucoup. « 
Analyste a mi-temps dans le secteur de l'énergie, Sophie a décidé de consacrer le temps qu'elle ne passe pas avec sa famille à diffuser le secret Hand in Hand de la parentalité dans sa communité.
En tant qu'instructeur, elle donne des conférences, et organise des sessions de formation à l'approche Hand in Hand parenting au sein de sa communité de Dubai.
Habitant à l'étranger avec sa famille depuis plus de quinze ans, Sophie s'est spécialisée dans l'accompagnement des familles expat. Maman de 4 garçons et d'une pré-ado, elle a à cœur d'aider les parents à élever des petits garçons résilients, et des pré-ado qui se sentent bien dans leur baskets.
Sophie est diplômée d'ESCP Europe et possède un master en Marketing et Finance. Elle vit à Dubaï avec son mari Romain et leurs cinq enfants.
Pour contacter Sophie :
Podcast : Hand in Hand Parenting avec Sophie, disponible sur toutes les plateformes. 
https://www.instagram.com/handinhandavecsophie/