!­­ BEGIN MTM CODE // DO NOT REMOVE ­­> <!­­ END MTM CODE // DO NOT REMOVE ­­>
Learn why each year over 1 million parents turn to us for parenting tools, insight + support.
Today it's your turn.

Essential Reading for Parents
No parenting bookshelf is complete without these easy to read yet powerful booklets. Before parenting was "gentle" or "peaceful" or "positive" there was Parenting by Connection. Read the fundamentals that will help you partner with your child to move through emotional moments into more loving, connected, and compassionate interactions.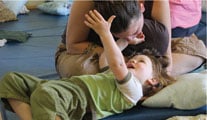 Parenting by Connection Blog
Real parents share examples of how you can use the Parenting by Connection tools to solve family challenges at your house.
What's the Cure for Whining?
If we wanted to make a list of things that irritate parents, we'd find children whining near the top! Every child tries it sooner or later. Some children fall into whining and can't seem to climb back out.
3 Tools to Stop the Hitting
Odd as it may seem, children who hit are children who are afraid. The fears that cause trouble for a child who hits usually have their roots in some frightening experience earlier in her life.
Help for Picky Eaters
When you have a picky eater, the problem isn't so much with food, it's with your child's feelings about food.
view all

Join us for the next step in Parenting by Connection.
For those parents who need extra support or want to do a deep-dive to develop their Parenting by Connection skills quickly and efficiently. If your family is facing divorce, illness, loss, or other significant stressors, this program gives you the full support and resources to thrive in spite of the challenges you face.
Download this explanation of five fundamental ideas that will make your life as a parent less stressful and your relationship with your child warmer and more connected.

Reserve your space now to participate in the last Professionals Intensive of 2015. Enrich your practice and support families in a revolutionary new way. 20 CEUs. Registration deadline is August 7th. Program tuition is $647.
We are hard at work on our newest self-guided video class, Helping Your Child with Separation Anxiety.
view all