!­­ BEGIN MTM CODE // DO NOT REMOVE ­­> <!­­ END MTM CODE // DO NOT REMOVE ­­>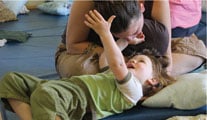 Parenting by Connection Blog
Real parents share examples of how you can use the Parenting by Connection tools to solve family challenges at your house.
What's the Cure for Whining?
If we wanted to make a list of things that irritate parents, we'd find children whining near the top! Every child tries it sooner or later. Some children fall into whining and can't seem to climb back out.
3 Tools to Stop the Hitting
Odd as it may seem, children who hit are children who are afraid. The fears that cause trouble for a child who hits usually have their roots in some frightening experience earlier in her life.
Help for Picky Eaters
When you have a picky eater, the problem isn't so much with food, it's with your child's feelings about food.
view all

Our most popular training has a new name and a discounted price. It's the same practical tools for solving parenting challenges and creating a more connected family but now the class that used to be called "Building Emotional Understanding" is called The Parenting by Connection Starter Class. Through February, enter the code 2015FebStarter when you register for class and you'll receive $75 off.
Join us for an eight-week intensive course in Parenting by Connection, designed for psychologists, licensed marriage and family therapists, social workers, doctors, nurses, members of the clergy, and parent outreach workers. Your choice of class sessions. 20 CEUs. Course fee $647. The online classroom is open and ready for you now. Next class conference-call sessions begin the week of March 30th, 2015 and the registration deadline is March 6th.

We are hard at work on our newest self-guided video class, Helping Your Child with Separation Anxiety.
This year-long program, starting in September and ending in June, is open to individuals with the skills and experience to teach, support, and mentor parents and child care professionals as they learn the tools of Parenting by Connection. Participation in one of our Parenting by Connection Starter classes is a prerequisite to Certification.
view all