!­­ BEGIN MTM CODE // DO NOT REMOVE ­­> <!­­ END MTM CODE // DO NOT REMOVE ­­>
Learn why each year over 1 million parents turn to us for parenting tools, insight + support.
Today it's your turn.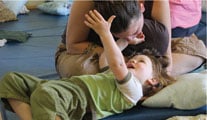 Parenting by Connection Blog
Real parents share examples of how you can use the Parenting by Connection tools to solve family challenges at your house.
What's the Cure for Whining?
If we wanted to make a list of things that irritate parents, we'd find children whining near the top! Every child tries it sooner or later. Some children fall into whining and can't seem to climb back out.
3 Tools to Stop the Hitting
Odd as it may seem, children who hit are children who are afraid. The fears that cause trouble for a child who hits usually have their roots in some frightening experience earlier in her life.
Help for Picky Eaters
When you have a picky eater, the problem isn't so much with food, it's with your child's feelings about food.
view all

A generous donor was so moved by the way that Parenting by Connection transformed his relationship with his daughter, and believes so strongly that parents around the world need tools besides punishment and time outs, that he presented us with a fundraising challenge. When you give a gift, your tax-deductible donation will be matched dollar for dollar up to $15,000. Please join our campaign
This year-long program, starting in September and ending in June, is open to individuals with the skills and experience to teach, support, and mentor parents and child care professionals as they learn the tools of Parenting by Connection. Candidates must have completed a Parenting by Connection Starter Class.  Applications will be accepted between April 1st and May 31st for the 2015-2016 program.

Join us in the peaceful beauty of the Santa Cruz Mountains for a weekend of laughter, listening, and connecting with the deep support that brings out the best in our parenting. This year's retreat will be co-led by Certified Parenting by Connection Trainers Jamie Russell and Tosha Schore.
We are hard at work on our newest self-guided video class, Helping Your Child with Separation Anxiety.
view all