Learn why each year over 1 million parents turn to us for parenting tools, insight + support.
Today it's your turn.

Essential Reading for Parents
No parenting bookshelf is complete without these easy to read yet powerful booklets. Before parenting was "gentle" or "peaceful" or "positive" there was Parenting by Connection. Read the fundamentals that will help you partner with your child to move through emotional moments into more loving, connected, and compassionate interactions.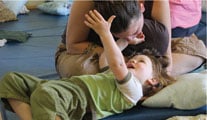 Parenting by Connection Blog
Real parents share examples of how you can use the Parenting by Connection tools to solve family challenges at your house.
What's the Cure for Whining?
If we wanted to make a list of things that irritate parents, we'd find children whining near the top! Every child tries it sooner or later. Some children fall into whining and can't seem to climb back out.
3 Tools to Stop the Hitting
Odd as it may seem, children who hit are children who are afraid. The fears that cause trouble for a child who hits usually have their roots in some frightening experience earlier in her life.
view all

Want to help your child resolve the fears and build confidence? You can start this new online video class now.
Download this explanation of five fundamental ideas that will make your life as a parent less stressful and your relationship with your child warmer and more connected.

Register early for this popular intensive training for therapists, social workers, and other professionals who work with parents. Mentoring sessions begin in January.
Visiting the doctor can be an anxious time for children and parents! In this free parenting call we'll discuss what you can do to help ease anxiety for you both.
view all