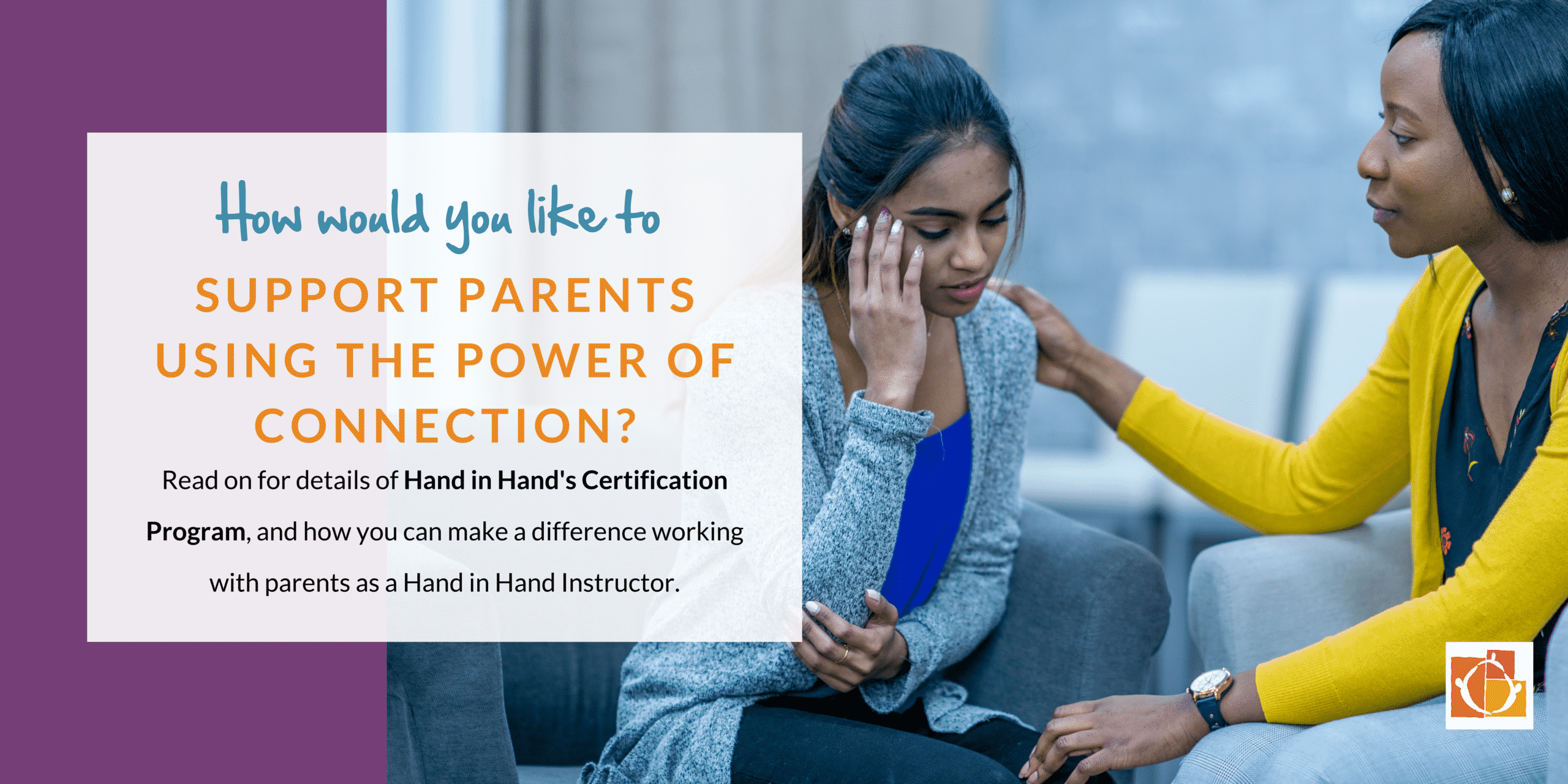 "When parents meet their children's core needs for love, respect, limits, and lots of play, young people grow up to be cooperative, creative, emotionally resilient, and effective problem-solvers in our challenging world." – Patty Wipler.
Change the world, one parent at a time.
Certified Hand in Hand Instructors support parents in their communities by sharing the Hand in Hand approach and tools, and guiding parents toward powerful transformations that can happen  when connection is used to meet a child's needs. 
In classes, workshops, and talks, both online and in-person, instructors support parents in the difficult role of raising children, showing them how to connect in hard moments, play, laugh, and delight in their children. 
We see this as vital work, and we are thrilled that you are considering certification. 
This program is right for you if:
You have experience using the Hand in Hand approach and have completed  the 6-week Instructor-led Hand in Hand Starter class or our 8-week Professionals Intensive, or our Foundations Class for early childhood educators.
You are excited about the idea of  working  with Hand in Hand to provide parents with the understanding, tools, and support they need to build and strengthen warm, close, connected relationships.
You have time and energy to participate fully in the program, and are motivated to use the information and support we offer to make lasting changes in your life and in the lives of parents.
For more details about the program please download our 2023-2024 Certification Program Information. 
This document contains information about our goals, prerequisites,  schedule,  time commitment,  logistics, requirements for certification, the support you will receive, your responsibilities, the topics that will be covered during the program, the cost of the program, and our policies.
---
More about Instructor Certification With Hand in Hand Parenting
Logistics
The Certification Program begins in September and ends in early June. You will attend monthly Zoom classes, a weekly mentoring group (3-5 people in each group), and have access to an online classroom and a moderated discussion group specifically for members of the Program.
Space in the program is limited so that personal attention can be devoted to each highly qualified candidate.  Hand in Hand is generally only able to accept half of the applicants who apply. Each year, 30-40 people participate.
Costs
The cost of the Program is $4,250. 
We accept scholarship applications after you have been accepted. Each student is expected to make payments toward the program, as there are no 100% scholarships. Awards typically range from 25-75% of the total cost. We look at finances, where you live, communities you plan to work with, and your personal support network when making awards.   
For more details please download our 2023-24 Certification Program Information. 
Want to know more about how you can make a difference in how the next generation is raised?  Listen to this Certification Q & A with Patty Wipfler.
If you are a parent or caregiver interested in deepening your personal Hand in Hand Parenting skills and understanding, but are not interested in teaching others at this time, the Parent Club or a Hand in Hand Starter class may be right for you. If you are a professional planning to use Hand in Hand Parenting in your existing practice, you might consider our next Professionals Intensive class, or our Foundations Class for early childhood educators.
Gain Support, As You Give Support
Here's what one certification candidate told us:
"I did not realize how life-changing the certification program would be. I took the Professionals Intensive last year and found it wonderful as well, but this full year of being steeped in the Parenting By Connection approach exceeded all of my expectations and hopes.
I have a support system now through Hand in Hand and my individual listening partnerships that I know will carry me throughout my life. I feel that a new inner strength was forged in me during this year—not a rigid strength but a flexible, open, feeling-full strength that impacts every aspect of my parenting, my partnership, my work with parents, and my relationship with friends and my community.
This program has been a tremendous gift to me, and I am deeply grateful for all you are doing to transform parenting for each of us and for all those we touch. Thank you."
– Caroline Griswold
And another:
"After I found out my mom was unwell I almost backed out of the instructor training. I thought it might be too much to take on something new. I am so glad I
decided to stay. It has turned out to be a beautiful support for all of us.
"The tools have taught us to be playful and build connection in a time where we dearly needed it. If it were not for Hand in Hand, I don't think I would be able to be helpful to anyone right now.
"Growing up, I wasn't taught how to have boundaries… quite the opposite. I felt that it was my job to conform to everyone else's needs and never voice my needs. I didn't learn how healing it can be to cry or laugh to release tension in the face of fear and grief. I am grateful that my son is having a very different experience.
"Because of the skills we are learning, my family is able to cry and laugh when we need, to find support in each other, our friends, and within the Hand in Hand community.
"The tools have enabled my family to navigate this tremendously stressful time with a growing foundation of connection. Learning how to release what we need to has provided us with energy and resources so we can support each other better.
"I am thankful from the bottom of my heart to Patty, all the dedicated teachers, and devoted parents. I want you to know that your effort and energy has meant the world to my family."
– Marike Harrison
 For further questions, please contact our Certification Program Lead, Michelle Kokel
How to Apply:
Applications are now CLOSED for the 2023-2024 program

.
Applications are accepted between April 1st and May 31st each year. 

Thank you for your interest in this program.
Not quite ready to join the program yet? That's OK! Just complete the form below to be added to the mailing list for future updates.