Click to learn more about Hand in Hand's staff members.
Patty Wipfler
Patty Wipfler is the author of the upcoming book Listen: Five Simple Tools to Meet Your Everyday Parenting Challenges. She was born, raised and educated in California, graduating from Occidental College in 1968, and is the mother of two sons. The focus of her work since 1974 has been teaching basic listening, parenting, and leadership skills to parents. She directed The School, a non-profit parent co-operative preschool in Palo Alto, and later directed Neighborhood Infant Toddler Center for Palo Alto Community Child Care. She has led over 400 residential weekend workshops for families and for leaders of parents in the U.S. and in 23 countries.
In 1989, she founded the non-profit Parents Leadership Institute, which evolved into Hand in Hand Parenting. As Director, she has written 14 booklets, produced videotapes and audiotapes, and has written over 100 articles for Hand in Hand on the principles and benefits of Parenting by Connection. To date, Hand in Hand has sold over 800,000 of these booklets in English, Spanish, Chinese and Japanese.
Patty Wipfler's articles have been published in Mothering Magazine, the Bulletin of Zero to Three: National Center for Infants, Toddlers and Families, Child Welfare News, and in many local newsletters for parents. She has been a keynote speaker at Association for the Education of Young Children conventions in Chicago and Philadelphia, and has done workshops and trainings throughout California, and in Oregon, New Mexico, Texas, and Massachusetts, as well as in Beijing, China.
Patty lives with her husband in Palo Alto, California.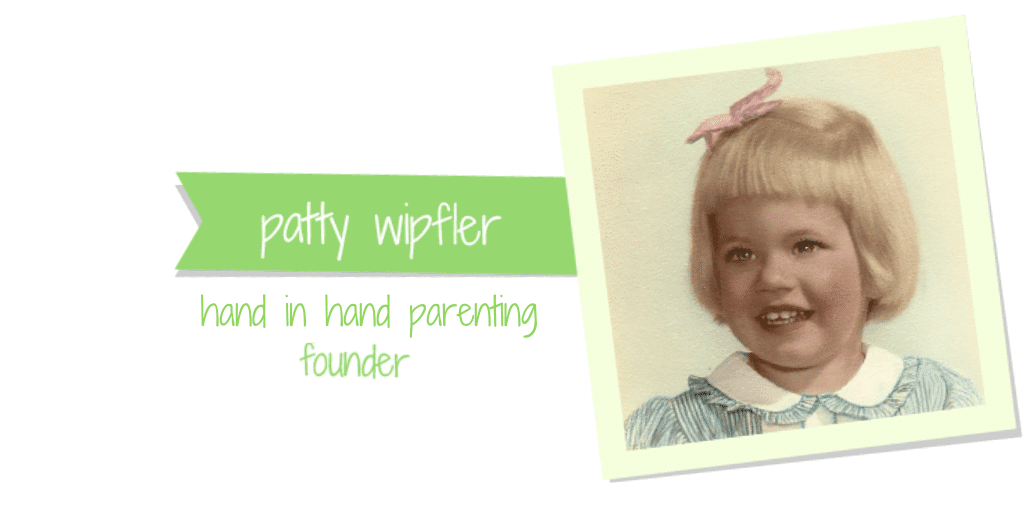 Kathy Gordon
Kathy is particularly interested in working with foster and adoptive parents, and parents of children with any type of special need, learning or behavior challenge. She offers the Parenting by Connection Starter Class in person in Los Angeles and on the phone. She works with parents individually and does trainings for educators and professionals who work with children. She is a gifted speaker and offers and introductory talks on Parenting by Connection, as well as specific topics such as Tantrum Training, Setting Limits, Listening Partnerships and Connecting with Your Teens. Her passion is practicing and teaching conscious child-raising by connection, in order that we may foster cooperation and peace in our families and the world.
Elle Kwan
Elle is from the UK. Her background is in content creation for high-end brands and travel.
She lives in Hong Kong with her husband Rick and their two kids in Hong Kong. Reia is 8, creative, and an aspiring fashion designer, and Rafferty is 4 and crazy for emergency vehicles.
After earning a Ph.D. in molecular genetics and completing a postdoctoral fellowship in developmental neuroscience, Michelle's career in academic research took an unexpected turn after she became a parent.
Michelle has been involved with Hand in Hand since 2008 when she first experienced the transformative power of the listening tools. She feels privileged to support parents as they take on the emotional work necessary to untangle early hurts and build warm, connected relationships and strong support systems.
Michelle's areas of interest include helping children heal from developmental trauma, supporting parents through emotional projects, sibling relationships, anger/aggression, and supporting children with learning differences. In addition, she often works with adoptive families, helping parents connect with children who have experienced disruptions in early attachment relationships.  
Michelle lives in California with her husband, two wonderful teenagers, and a sweet dog.
Ahava Vogelstein
Ahava first connected with Hand in Hand in 2015 as a school counselor looking for additional support for the families and educators in her school community. She uses the listening tools with her family and in her work as a preschool consultant, adjunct faculty member, and nanny educator. Ahava is passionate about supporting the body, heart, mind, and spirit of young children and their grownups and loves being on the Hand in Hand team. Ahava is a certified instructor, research team member, and research committee member.