Our eldest (4) chose to play an age-appropriate computer game for his special time. I sat beside him as he effortlessly played the game. He said nothing, did not look at me once.
Halfway through I thought that I should make contact so I leaned over and kissed his shoulder several times. No reaction. I decided to not have any further agenda of my own and sat beside him, fully attentive, until time was up.
Convinced that he had hardly been aware of my presence, I told him that special time was over and that I was going to do other things. To my surprise, he immediately turned to me with wide eyes and asked "Do you really have to leave now, mom?" I was so surprised that he had been very aware of my presence and would be missing it after special time!
– a mom in Sweden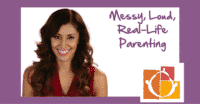 Do you want more suggestions on how to use Special Time? Check out our free video series. In the first video, you'll get a step by step guide to using Special Time and some fun examples of what it can look like. Get your videos now.