We had been stuck in a rut for a few weeks, maybe even a few months. The boys were fighting constantly, bickering and annoying one another and I was at my wit's end. Special Time had been completely forgotten in our daily routine and the children (and their exasperated mother!) were suffering. I did not feel like being with my children. I was annoyed at any and every little thing that they did.
So one Sunday when my husband was at home, I decided that we had to do some Special Time (whether we wanted to or not!). My boys jumped at the chance and each had chosen to go to a nearby park to play (as it turns out, I went to three different parks that day as they each chose a DIFFERENT one but that's a whole other story.)
First up was my youngest. He is usually such a courageous, bold boy who doesn't seem to be scared of anything. I witnessed a completely different side to him that day – he was scared of ants, of spiders and of any creepy crawly thing he saw. I was reminded that deep down he is just a little boy with real fears, and such cute ones at that.
Next was my 5 year old. He had chosen a decidedly adult park, with many difficult playground exercises and equipment. I resisted the urge to coax him into going to a park with smaller equipment and just launched into enjoying him. I saw his unbending determination in mastering one particular piece of equipment. He just didn't give up until he did it!
With my 8 year old, we went to a completely new park. The playground was designed for his age and height and he tried absolutely every single thing! The rock climbing wall, the rope climb and the seat that spun around very fast (I had to get off because I was sure I was going to vomit!) He didn't shy away from anything, trying everything with such youthful zeal. Oh to be young again.
My boys were content that evening, after they had their half hour of special time with me. None were more content than me, though as during our Special Time I noticed the strengths and fears in my children and the cuteness, the bravery and determination – things that had been buried under the drudgery that is school, work, housework, cooking, laundry and cleaning.
Special Time allowed me to fall in love with my children all over again.
– Tasmiya Hussein, Parenting by Connection Instructor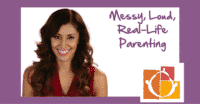 If you want some more suggestions on how to use Special Time, check out our free video series. In the first video, you'll get a step by step guide to using Special Time and some fun examples of what it can look like. Get your videos now.