We were on holiday—and it was full on, with lots of new things to see and do. There was no routine, and Grandma and other people were always with us. So it is no wonder that my daughter, 3 ½, went off track; she was not getting much one-on-one attention.
One particular day was long, busy, and exhausting. By the afternoon, my daughter had started complaining constantly, and it was draining for me to try to make her happy.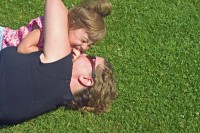 I thought for a moment, exhaled, and started a silly game: "Oh, these whingy-whiny bugs are everywhere! I need to get them off of you!" I said, picking invisible little creatures off her body. I caught them behind her ears, in her nose, on her belly—everywhere. Then, I popped the pretend bugs in my mouth and chewed with delight.
Her giggles were fabulous! She wanted more and more of this whingy-whiny bug play.
After this, she was much more cooperative and easygoing. A little playlistening helps a lot! She asked for this game throughout the rest of our holiday, which helped her release tension wonderfully, with lots of laughing.
–Sarah Nolden, Bruehl, Germany