"She's so clingy," I found myself complaining about my one-year-old daughter. "I can't get anything done!"
Almost all the mothers with babies of a similar age agree with me. We spend our days socializing in baby groups, or at other people's houses, trying to avoid going back to our own homes. My baby seems fine when we are out and about, but turns into a koala whenever it's just the two of us.
When I talk to parents of toddlers, and older children, I get worried that it's not going to get any easier. Children of all ages need attention and lots of it. It seems that no matter how much we give our children, they always want more. Their need for attention seems infinite!
From my Building Emotional Understanding Course, I learned that the clingy,
attention-seeking nature of our children is actually hard-wired into their brains. It makes biological sense that children evolved to make sure they were under an adults' radar at all times, to protect them from wolves and other dangers in the wild. There may not be any wolves in our houses these days, but children's brains are still the same.
According to Patty Wipfler, when children feel connected to their parents, they can be their naturally good selves, happy, relaxed, and eager to co-operate with us. However, their sense of connection is fragile, and is easily broken by something as simple as a parent giving attention to another sibling or getting distracted by a phone call. When children behave in "off track" ways, it's a signal to us that they need some connection.
But giving children constant attention is impossible. Many of us work all day, and it's not much easier for stay-at-home parents, who struggle to balance doing the cooking and housework with giving their children one-on-one attention.
Mornings were the worst time for me. I'd be struggling to get breakfast sorted, clean up the kitchen and get out of the house. As I rushed about, my daughter would start screaming for my attention, which stressed me out. As the screams escalated, I would feel more and more stressed, and she would get more and more frustrated. We were reacting to each other, so that by the time we left the house our sense of connection had been lost, and everything I tried to do just seemed to make her whine and complain.
After reading Julianne Idleman's article "Start School Days with Special Time," I decided to implement ten minutes of Special Time with my daughter every morning. I loved Julianne's advice to, "Make sure everyone in the house knows they are loved and cared for, and welcomed into this new day, before any of the many mundane chores gobble up your attention."
During Special Time I would get down the floor, and follow my daughter as she crawled about exploring. It seemed almost silly to be doing this, to just follow her, doing nothing but simply watching what she was doing. She barely looked at me, as if I wasn't even there! But then I reminded myself that if I wasn't with her, she'd be wanting to be picked up. She did feel my presence even if she wasn't directly interacting with me. She enjoyed this time of exploration, safe in the knowledge that I was close by and giving her my complete attention.
What I noticed is that when Special Time was finished, she was often happy to continue playing even after I stopped to get on with other things. Because I'd invested time with her, she continued to feel a sense of connection, even when that time ended.
Now, whenever my daughter is in a particularly clingy mood, I give her some Special Time, and it often helps her to enjoy playing independently. Daniel Siegel, the co- author of Parenting from the Inside Out, says that humans have oscillating needs for connection and solitude. When I have met my daughters need for connection she can confidently go off to explore her world, learning, in self-directed play. The practice of Special Time, together with the other Parenting by Connection listening tools, have helped me to help my daughter discover her independence. It is a joy to watch, and it's great to get some time to clear up the house too!
Daniel Siegel says that our brains develop during interactions with others. We feel connected, and internalize a sense of the loved ones in our lives so that they are with us even when we separate from them. When we devote time to our children, it helps them to internalize a sense of having a loving safe base that makes them feel confident and secure even in our absence. This could be when we just need five minutes to go to the toilet, or so that children can cope with separations such as daycare or school. Ultimately, our children internalize the sense of feeling safe and connected to us, which means that when our children are grown and fly the nest, they will still feel us with them. I love this idea that when we connect and interact with our children, we are interweaving ourselves together so that we will never really be apart
-Kate Orson is a Hand in Hand Parenting Instructor, and mother to a 4 year old daughter. Originally from the UK she now lives in Basel, Switzerland. She is the author of Tears Heal, How To Listen To Our Children. Connect with Kate on Facebook or follow her blog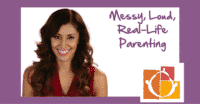 Do you want more suggestions on how to use Special Time? Check out our free video series. In the first video, you'll get a step by step guide to using Special Time and some fun examples of what it can look like. Get your videos now.