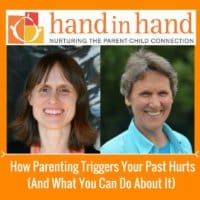 Join Certified Instructors Sandra Flear and Robin Setchko for this podcast for parents and professionals.
They discuss what interpersonal neurobiology is teaching us about how early memories are formed, and how parenting can trigger the feelings attached to difficult early experiences in parents.
They also discussed how these experiences are repaired, and how listening partnerships between parents work. This powerful tool can help us lessen our reactivity when our feelings have been triggered so we can respond calmly and lovingly to our children.
After this replay, you'll walk away with a better understanding of how our brains work, and how neuroplasticity can lend some hope to changing old patterns.
More From the Hand in Hand Toolbox:
Work with children? Discover how you can bring trauma-responsive tools to your work with the 8-week Hand in Hand Parenting Professionals Intensive
Every parent faces hidden triggers, learn how this parent discovered what her hidden trigger was and how she overcame it.
Ready to take the first step towards calmer parenting? Learn more about the importance of Listening Partnerships and start Building a Listening Partnership today! To find a listening partner join our free Facebook Community group.