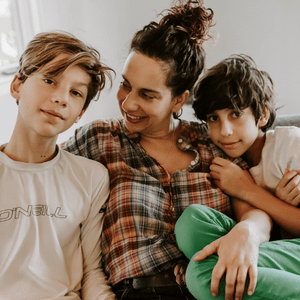 The world tells us a story
of what having a family will be like.
But if you're anything like my family, you had a
** RECORD SCRATCH ** awakening.
And you're still reeling.
>> There's the parent you thought you'd be.
And there's who you've become.
>> There's the family you should've been together.
And there's the family you have.
THE.
CHASM.
HURTS.
I know, because my early years of motherhood hurt too.
The good news is that parenthood is a story
that we get to retell over and over again
with each passing day.
And we can give our story a new ending
if we are given tools that work
and a mentor who teaches us how to use them.
The Hand in Hand tools are some of the most powerful parenting tools I have ever found.
They saved my sanity in the earliest years,
taught me the meaning of the word support in the middle years,
and caught me in community as the years went on.
They inspired me so much that together with Elle Kwan,
I co-hosted the Hand in Hand Parenting Podcast from 2017-2019.
Today I am a parent of two teenage boys who have given me quite a ride.
Our family is bursting with neurodivergence,
humming in harmony,
afloat in communication,
and awash in love.
It is not always easy, but I do trust myself to lead my family with integrity and respect.
I can leave behind what I don't wish to carry into the future, and I can tell the story that I meant to all along.
I invite you to learn how you can do this for YOUR family.
And for YOURSELF, because parents deserve just as much love as kids do.
I love to support all parents but I am particularly passionate about helping those of you who struggle with strong-willed, highly sensitive kids.
And those of you who used to be those kids, and are now those adults. 🙂
I can be reached at motherflippingawesome.com.