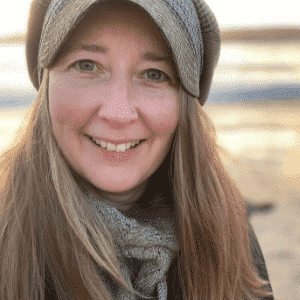 Alice Ritch is a registered music therapist (MSc) based in the wild and windy Shetland Islands.
Alice says:
Throughout my musical training, I was fascinated by the dance of early interaction between babies and their parents. I loved analysing the details of communication and improvisation from moment to moment. I had the honour of working intimately with people who had huge challenges: illness, disabilities, dementia, trauma etc. Time and time again I was profoundly moved by the innate human desire to connect. The concept of 'unconditional positive regard' became my strongest anchor and so when I became a parent I held on fiercely to that ideology.
Becoming a mother was incredible. It was joyful and validating, especially after severe pregnancy sickness! The problem was, how could I possibly sustain my ideals for 24 hours a day through the relentlessness of parenthood?  As our family grew, so did my sense of inadequacy. How would I ever be enough for not just one but three small humans?
There was so much to learn… and so many books to read!
As I filtered through the noise of all the parenting advice out there I kept finding my way back to Hand in Hand Parenting. Here was an approach so rich and deep in its scope, so ahead of its time in terms of trauma informed, embodied practice AND it was based on the real authentic experiences of parents from all over the world.
It never fails to amaze me that I can access the very best of the parenting world from a small shed in a remote Scottish Island. Patty Wipfler's clarity, non-judgemental attitude and her commitment to straightforward, accessible resources is an absolute gift to humanity!
Hand in Hand Parenting draws together everything that I feel most passionate about in parenting (and in life in general) in the most elegant and practical way. The five listening tools have given our family a framework that supports us all as individuals and yet holds connection as the driving principle. The importance of play; warm limits and boundaries; the profound benefits of unconditional listening and emotional release; and the essential element of peer support and community all intertwine like a beautifully mixed album!
It is a privilege to be part of this global network of Instructors and I look forward to sharing my experiences and supporting other parents in nurturing the next generation of strong, creative, resilient and connected children.
"Alice has been fantastic as the study group leader. She introduced the tools and has offered her own experiences which really helped to understand how the tools can be implemented in day-to-day life."

"Alice has been incredibly supportive and I feel empowered to be a positive and mindful parent."

"Alice was excellent. Really friendly, approachable and knowledgeable."
Alice's specialist areas include supporting neurodiverse families, people with disabilities, families living with dementia and people in small rural communities. She also loves playing and teaching piano and believes whole-heartedly that everybody is musical and deserves to have the chance to explore their own creativity.
You can connect with Alice and read her blog here:
Blog: www.warmheartedparenting.com
Email: [email protected]