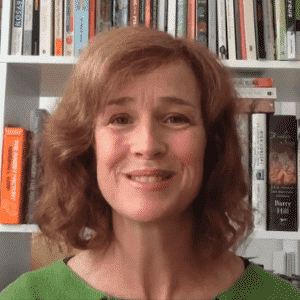 Anna Cole, PhD, was born in the UK and emigrated as a child with her family to Australia. In 2001 she returned to live in the UK with her London-born husband. Anna has taught at Universities in Sydney, London and Brighton and worked as a consultant historian and co-writer of a documentary film recording Indigenous Australian women's urban culture, short-listed for a United Nations Media Peace Award (November Films, 2010).
Since the birth of her daughter in 2004 and her son in 2006, Anna has focused much of her research and practice on the "emotional ultra-marathon—as Patty Wipfler calls it—of parenting". Anna is deeply inspired by the Parenting by Connection approach and its gentle and effective way of marrying insights from recent neuroscience with over thirty years of practical, compassionate experience in listening to and supporting children and parents.
"The Parenting by Connection approach brings a hopefulness and confidence to working with my own 'stuff' and with other parents.  The approach is based on a profound and loving understanding of the nature of children, and its intention is to address the fundamental lack of support for parenting in our society. Parenting by Connection has brought more play and laughter to my family as well as more freedom to release feelings that led to old 'knee-jerk' responses that took me away from the direction I wanted to move in with my children. Each time I practice using the listening tools I am re-inspired by the non-punitive basis of the approach and the flexible, humorous, affectionate, and kind attitudes they elicit in my two children."
In January 2013, Anna became the first certified Parenting by Connection Instructor in the UK and runs in-person Building Emotional Understanding classes in the London, Brighton, and South East area. She has a particular interest in sharing the Parenting by Connection approach with economically disadvantaged inner-city London communities and with building wide-spread support for parents.
You can read about her use of the Listening tools here.
From parents in Anna's classes:
Your guidance and examples during class with how you listen and how you structure our listening are brilliant takeaways!  I look forward to the rest of our course.  I'm enjoying your role in our group very much – Lyza, Parent in Cambridge, MA
Thank you again for six very beneficial classes together.  Your time and attention was greatly appreciated.  I really did get a lot out of the combo of course/calls and you held the space very respectfully and tenderly, Anna.  Thank you!  – Carol, Parent in Cambridge, UK
Thank you so much for your time, experience and love that you brought to our sessions – Catherine, Parent in Brisbane, Australia
Thank you so much for your amazing support and encouragement over the last six weeks. It feels like the beginning of something wonderful and I feel so blessed to have been given this gift while my girls are still young.  I'm hoping to do the Professionals Intensive course later next year when I finish my Masters in Dietics as I see the potential for this approach to benefit my clients as well.  You truly are changing the world – one family at a time. – Wendy, Parent in Brisbane, Australia
For more information and inquiries about Anna's classes and parent support groups, call +44 (01273 471996) or email.