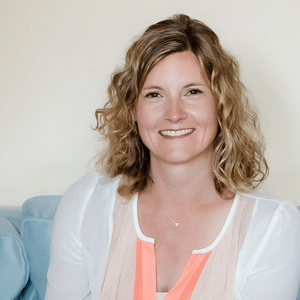 Caroline Griswold, Certified Hand in Hand Instructor
I found Hand in Hand Parenting in 2013 when my son was almost one and I was searching for a way to help him sleep that felt loving and respectful of both of our needs. A friend sent me Patty Wipfler's article Helping Young Children Sleep. It was eye-opening—the idea that tears could be healing and that parents could support their children through difficult emotional times landed deeply with me.
I started using the Hand in Hand tools at home soon after, just as my son became a toddler! They couldn't have come at a better time. I felt like I finally had a way to respond to my son's big feelings and tricky behaviors as the parent I wanted to be.
I founded Fertile Ground Parenting in 2017 to support parents, and began offering the Hand in Hand tools to every parent I worked with. After witnessing how transformative the tools were for other parents as well, I was inspired to join the Hand in Hand Professionals Intensive in 2019, and then the Instructor Certification in 2020. I became a certified instructor in 2022.
I live in San Francisco with my partner and school-aged son, and I work with parents around the world through one-on-one coaching, online courses, and groups. I also teach classes and facilitate groups in person in the San Francisco Bay Area. I love helping parents find greater joy and connection with their children, and grow into their parenting with grace, insight, and humor.
You can learn more about me at my website, www.fertilegroundparenting.com.
Or you can email me directly at [email protected].
You can also find me on Facebook and Instagram, @fertilegroundparenting.