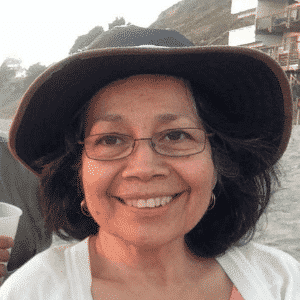 Rita is a Certified Hand in Hand Parenting Instructor. She has extensive experience serving Spanish-speaking migrant parents in her community, as a Pediatric Health Education Coordinator and as a former Preschool Teacher and Site Supervisor for Head Start. She emigrated from El Salvador, when only 18 years old, and is a mom to 3 grown children. Rita has been using the Hand in Hand listening tools for over 20 years.
In describing her early parenting experiences, Rita says, "I was desperately looking for help, because I was really struggling as a parent. Even though I had taken classes as an early childhood educator, I just couldn't address my children's emotional needs. Hand in Hand provided me the tools I needed to create a support system to help me do the emotional work necessary to be the parent I wanted to be. "
"With lots of support, I was able to accept the parenting mistakes I made and build my confidence to make positive changes. Before Hand in Hand, when my children went off track, I made assumptions about their behavior, based on my concerns and fears.  What I thought of as my children's misbehaviors, I started to understand as their attempts to communicate their sense of disconnection. I began accessing my thoughts around being present, and that changed the way I responded. It was very encouraging, when I could listen to my children's cues, instead of getting confused and doubting myself. This is what keeps me going, seeing that I can change the direction of my approach and keep moving forward."
"What really made me want to share these tools was seeing my relationship with my daughter turn around. I didn't think I could ever figure out how to connect with her emotionally and had given up on our relationship. I repeated all the negative patterns I learned as I was raised, even though I had sworn I wouldn't. In my efforts to try to be a good parent, I kept parenting her the only way I knew how, and this kept breaking our emotional connection farther and farther apart. Hand in Hand parenting tools helped me mend that."
As an instructor Rita says, "There's very little support for parents. It's easy for parents to blame themselves and their children for their struggles. In Hand and Hand classes, I love watching parents completely change their perspective, once they feel there is hope. I see parents move from feeling hopeless to feeling empowered to provide the kind of life they want to experience with their children. Parents really want to do well. This is what keeps me inspired."
Rita is available for classes and presentations in and around her community in Watsonville, California. You can connect with her through phone (831.247.2212) or email ([email protected]).
Save