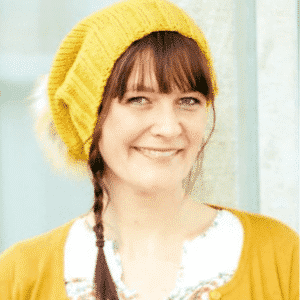 Steffi was born and raised in Germany. She became mum of a wonderful baby girl in 2009 and in 2013 of a beautiful boy. They live together with her husband in the very south of Germany near the Alps in Sonthofen, Bavaria.
As a conductive educator, she was used to working with disabled and mentally ill persons, but when she first held her little baby girl in her arms, she was so overwhelmed and insecure. Her midwife introduced the importance of listening to baby's tears, but Steffi found it really hard to put into practice, because she had no background information or support. The biggest missing piece was that she herself wasn't being listened to.
When her boy was nine months old, she had a serious ice-skating accident and was taken to hospital for emergency operation. After returning home, she couldn't walk for 3 months. She started reading books to find a better way with her kids and came upon Hand in Hand Parenting, which touched her very deeply. She was so amazed and grateful when she experienced the effects of Listening Partnership, which deepened her understanding considerably! Finally, she was being heard about all the hard, and at the same time wonderful, things which parenting brings up and how much love she feels for her wonderful children.
Straight away it was very clear that she wanted to become a Hand in Hand Instructor to bring this light, which so deeply touched her and her family, to as many other people as possible, and share it. Her vision is to help and spread the Hand in Hand tools and to reach as many families as possible. Steffi feels passionate about empowering parents to be the best version of themselves and being supportive in every way she can.
In her free time she enjoys caring for herself through Trance Dance and Yoga, as well as spending time with her family.
You can find her on www.heldeneltern.de, contact her via email at [email protected] or on Facebook.
Steffi ist in Deutschland geboren und aufgewachsen. Sie hat zwei wunderbare Kinder, 2009 wurde ihre Tochter geboren und 2013 ihr Sohn. Sie lebt gemeinsam mit ihrer Familie im Süden Deutschlands, in Sonthofen im Allgäu.
Als Heilerziehungspflegerin war sie darin geübt, mit behinderten und psychisch kranken Menschen zu arbeiten. Als sie aber ihr kleines Mädchen zum ersten Mal in den Armen hielt, fühlte Sie sich so überwältigt und unsicher. Ihre Hebamme erklärte ihr, wie wichtig es ist, Babys beim Weinen zu begleiten. Steffi fand dies aber sehr schwer in die Praxis umzusetzen, da sie keine Hintergrundinformation oder Unterstützung hatte. Das größte fehlende Puzzleteil war, dass zwar ihrer Tochter zuhörte, aber selbst nicht gehört wurde.
Als ihr Sohn neun Monate alt war, hatte sie einen schweren Sportunfall und wurde zur Notoperation ins Krankenhaus eingeliefert. Nach ihrer Rückkehr konnte sie 3 Monate lang nicht laufen. Sie fing an, Bücher zu lesen und im Internet zu recherchieren, um einen besseren Weg im Umgang mit ihren Kindern zu finden. Sie informierte sich über viele verschiedene Ansätze und fand schließlich Hand in Hand Parenting, was sie sehr tief berührte. Sie war so erstaunt und dankbar, als sie die Auswirkungen von Listening Partnership erlebte, wodurch sich ihr Verständnis beträchtlich vertiefte! Schließlich konnte sie sich von all den harten und gleichzeitig wunderbaren Dingen, die das Elternsein mit sich bringt, entlasten und die Liebe, die sie für ihre wunderbaren Kinder empfindet, leben.
Sofort war ihr klar, dass sie Hand In Hand Instructor werden wollte, um dieses Licht, das sie und ihre Familie so tief berührt hatte, zu so vielen anderen Menschen wie möglich zu bringen. Ihre Vision ist es, die Werkzeuge von Hand in Hand zu verbreiten und so viele Familien wie möglich zu erreichen. Steffi ist begeistert davon, Eltern zu befähigen, die bestmögliche Version ihrer selbst zu sein und auf jede erdenkliche Weise unterstützend zu wirken.
In ihrer Freizeit macht sie sehr gerne Trance Dance, Yoga und verbringt Zeit mit ihrer Familie.
Du kannst Steffi auf www.heldeneltern.de, per Email unter steffi@heldeneltern.de oder auf Facebook finden.