I was helping the child of a friend, who was 10 and still sucking her thumb. She had been trying to stop sucking her thumb for a long time. Her parents had tried many things to help– reminders to her at home, the bad-tasting thumb paint, and even putting gloves on her hands at night. She had agreed to these things because she really wanted to stop. At 10, you can imagine that she and her family had been dealing with this a long time. In spite of all this, she still sucked her thumb frequently.
I spent some "Special Time" with her, playing until we felt like we knew each other. Eventually, she told me that she wanted to stop sucking her thumb. I said that I would stay with her while she tried to think about taking her thumb out of her mouth, but that I wasn't going to make her take it out. I figured that plenty of adults had already tried that, and it hadn't worked. She needed my encouragement, not my interference.
I stayed close to her, touched her hand gently, and touched her thumb. I said, "It's really brave of you to try to do this. I'll stay with you, and I know that you can figure this out."
I touched her thumb very gently while she was sucking it. I said, "I'm very glad to be with you." That's when she started crying. As she cried, she told me, "I just hate doing this!" She also cried about how hard it had been to have this habit, saying, "I hate it when the kids at school tease me!" She cried hard with me for about 15 minutes, as I sat close, touched her thumb with one hand, and put my other hand on her shoulder. The things she cried about began to change, and she told me, "And I still don't even know how to ride a bike!" The hopelessness of giving up her thumb somehow connected to other things that felt hopeless, I guess. So I said, "You can learn," in my most encouraging voice. She said, "No, I can't," and cried more. I gently said, "Yes you can, I know you can." I think part of what helped her was that I could be hopeful for her.
When she finished crying, we found a bike, and I asked her if she wanted to try learning. She did. So we spent the next bit of time working on bike riding. She wobbled a lot, stopping and starting again, and after about 15 minutes, and many false starts and wobbles, she rode the bike! I actually don't know how long she dealt with the thumb sucking after that afternoon–she lives far from me, and we didn't see each other again. But I do know that she was elated about the bike, and felt deeply hopeful. Years later, she wrote me a card and thanked me for that day.
– Patty Wipfler, Hand in Hand Founder and Director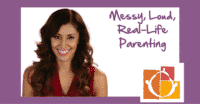 Do you want more suggestions on how to use Special Time? Check out our free video series. In the first video, you'll get a step by step guide to using Special Time and some fun examples of what it can look like. Get your videos now.