In one of Patty Wipfler's talks about Special Time, a question was asked by a mother about what to do if you child breaks something during rigorous play. Patty observed that sometimes children want to engage in experiments that might lead to something breaking or some other material resour
ce being used up. She suggested that the parent think about how much of an expense was OK in order to allow children more freedom to explore and experiment.
No sooner had I heard this talk, than my two little cousins who lived with me for several months began to challenge me to think about this too.
One evening while the three of us were playing, my one-and-a-half year old cousin walked into the kitchen and managed to get hold of a bottle of olive oil without my seeing this. I was engaged in a game with his sister, and when I went into the kitchen to see where he had gone, he was delightedly pouring the bottle of olive oil onto a dustpan in the middle of the kitchen floor.
A shot of anger and frustration ran through my body, but the next second I caught a glimpse of his face, so happy to be looking at this oil and observing how it slowly poured out. I then thought of Patty's words, and thought to myself "OK, the cost of this oil can go into our play budget." This fresh perspective allowed me to relax and to not be harsh towards him. I put the rest of the bottle away and we cleaned up the floor with lots of paper towels. And I was pleased to be able to be relaxed about the whole incident.
A couple of days later his sister wanted a band-aid, and after giving her one, she wanted another and then another. Then she put one on her brother and the two of them started giggling and wanting to put more band-aids on each other. Again, I was able to choose to allow them to experiment with all the band-aids they wanted, and mentally threw the cost of the band-aids into our play budget. The next day I went to a 99-cent store and bought another box of band-aids so they could continue this game, which they did.
A few days later, when she and I were playing Special Time, I asked her what she wanted to play. She enthusiastically said she wanted to cut up our leftover birthday wrapping paper and Christmas wrapping paper. Again, these are items I generally would have stored away for another use. Instead we "wasted" the paper, and she was thrilled to be cutting out snowmen and practicing how to use her scissors.
What I learned from all this was to come up with a dollar figure in my mind that I could afford to put towards our play budget each week. This has allowed me to be more generous and relaxed with my young cousins as they creatively invent their own games using ordinary things around my home. And while the children have plenty of store-bought toys to play with, it is their homemade games that often bring about the most laughter.
– By Ellie Hidalgo, Los Angeles, California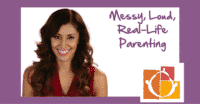 Do you want more suggestions on how to use Special Time? Check out our free video series. In the first video, you'll get a step by step guide to using Special Time and some fun examples of what it can look like. Get your videos now.