Listen to this free presentation to learn the causes of your child's aggressive impulses and understand what is happening for them when the impulse to hurt others takes over. Join Certified Parenting by Connection instructors Kathy Gordon and Kirsten Volk for a new way to look at the aggressive reactions in children.
Kathy and Kristen are both mentoring sessions of this year's Parent Intensive. This course is intended for parents who have a serious interest in quickly making the best possible use of their Parenting by Connection skills, or parents who may be experiencing a high need for support because of their personal history or current stresses on themselves or their child.
Kathy Gordon is particularly interested in working with foster and adoptive parents, and parents of children with any type of special need, learning or behavior challenge. She offers the Parenting by Connection Starter Class in person in Los Angeles and on the phone.  She works with parents individually and does trainings for educators and professionals who work with children. You can connect with Kathy on Facebook.
Kristen Volk is a single mother living with her two children in Denver, Colorado. Her interests include finding creative solutions for challenging behaviors (from difficulty with brushing teeth and separation to nail-biting, sibling rivalry, nightmares, aggression, homework and more).  She also has special interests in and experience with divorce, child and adult trauma, special needs children, single parenting, domestic violence, long term illnesses, medical procedures, loss, and bullying. You can connect with Kristen now on her Facebook page.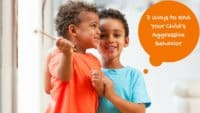 Are you looking for some more ideas on how to end aggressive behavior?
Get your free video tips now.