We leave the children happily playing while we go stir a pot on the stove, and two minutes later they are busting into the kitchen, screaming and pointing fingers!
We've all been there.
Sibling rivalry comes with the territory when you have more than one child, and even the most harmonious siblings grate on one another from time to time. As Kate Orson outlines in 15 Playful Ways to Handle Sibling Rivalry, children are naturally good and actually eager to get along, but when big emotions overwhelm them battles break out.
If you often hear whining that you favor a sister or brother, you are constantly the umpire in he-said-she-said tattle-tailing, or you find yourself breaking up squabbles or fights on a regular basis, you can be sure that their sense of connection to you and with each other is low.
Right now, families are under increased stress, with a million different things fraying our attention. It's a hotbed for overwhelm.
It's not your fault, but kids do pick up on what is around them, and it is this disconnection that allows feelings between siblings to grow.
Before long, harmony gives way to teasing or bickering and that soon becomes screaming and yelling.
Here Are Five Ways To Help Your Kids Get Along
There are practices that you can introduce into your family that feed the need all kids have for fairness and attention. When you build these habits into your family's routine, you'll find that they give you regular ways to check-in and reconnect. This sense of feeling seen and heard grounds kids helping them feel safer, more contented and better able to get along well together.
With the following five ideas in place, you can be sure each child is getting bursts of your frequent keen attention, and that soothes the fears that left unchecked soon erupt in sibling rivalry.
Putting them into practice will also help build lasting bonds between your siblings. With practice, they'll help each of your children to get along better.
Here are Five Bond-Building Ideas To Help Siblings Get Along.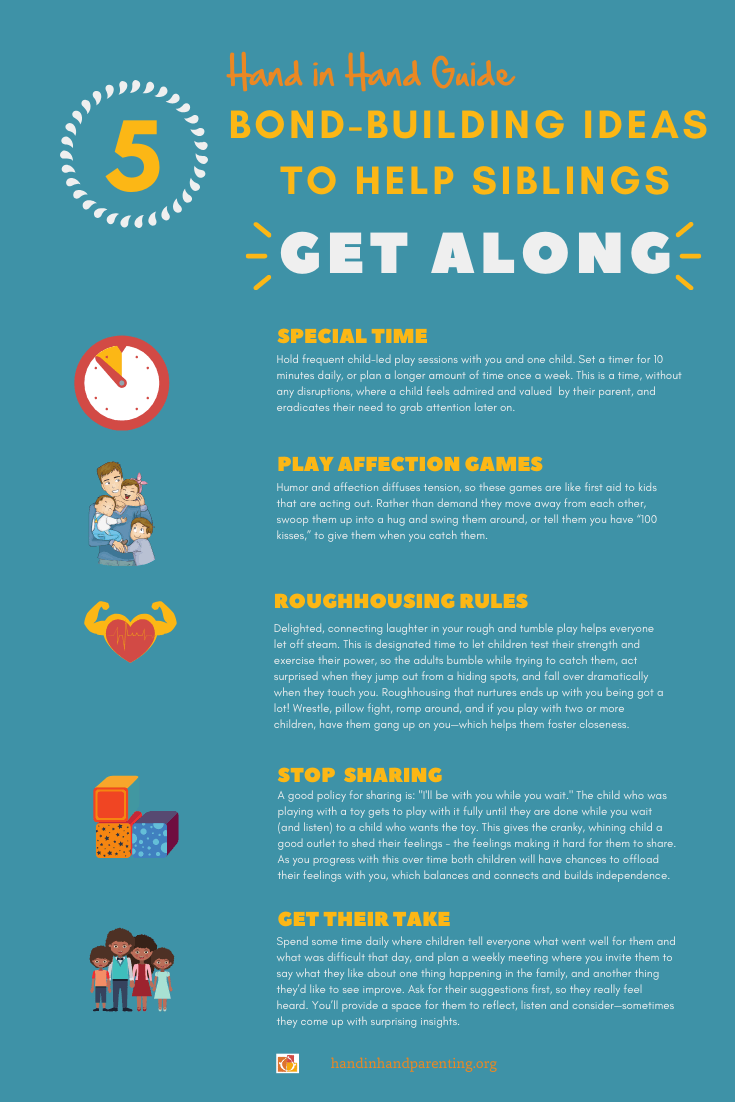 You can download and print this guide for free here
More Help for Strong Sibling Relationships
Read A Peaceful Approach to Sibling Jealousy
Get 5 Revolutionary Ideas That Make Parenting Less Stressful 
Save
Save
Save
Save
Save
Save
Save
Save