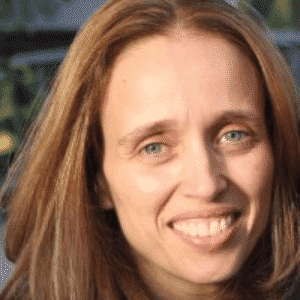 Ravid began by bringing Parenting by Connection to the Israeli community in Silicon Valley, California, and is now providing services in Israel. She has two girls and has been using listening tools since 2008.
Through her work with Hand in Hand she has taught different classes, workshops, play trainings, and parent consultations in Hebrew and English. Seeing the growth and profound changes that parents experience using Hand in Hand Parenting is truly inspiring to her.
Listen to Ravid talking about Special Time or read about how she used Playlistening on our blog.
You can contact Ravid at [email protected]
What parents are saying about Ravid:
"Ravid is an amazing teacher. She is wise, very empathetic, and has very helpful tips and tools that she teaches in her Building Emotional Understanding class. She is also an amazing parenting coach. I took the BEU class because of issues with my daughter (13) that had been going on for years. Now for the first time in years, my relationship with my daughter is dramatically less conflicted. We'd previously tried counseling, and I'd taken other parenting courses, with very little improvement. I highly recommend her work to anyone!" — A Parenting by Connection mom from Canada
"I found Parenting by Connection when my daughter was 2 years old and I was struggling to find a way to cope with the feelings that parenting a toddler raised in me. Finding Parenting by Connection and doing the Building Emotional Understanding class was the best thing that happened on my parenting journey. I was struggling with defiance, crying, and sleeplessness. I didn't know what to do, but I knew that I didn't want to follow the increasingly authoritarian feelings that were arising within me. As a result of doing the BEU, my daughter and I are much closer, more intimate, and more trusting. My daughter has a much better mother! The support of a like-minded community is invaluable. I wish I had found it earlier." — A Parenting by Connection mom from the UK who took the BEU and continued in parent support group calls with Ravid.
"I highly recommend Ravid and Hand-in-Hand. I just finished a workshop with Ravid about teenagers and am very happy with the new tools and awareness I've gained. She's a great parenting coach!" — A Parenting by Connection mother from Palo Alto
"Ravid, thank you so much for all your support, guidance, and wisdom over the last few years. I have learnt so much and continue to deepen my understanding of children, parenting, and myself. I am a better Dad with more to offer my family after doing your Hand in Hand BEU Foundation Course and ongoing support calls. In addition to your knowledge, your presence, empathy, and compassion is powerfully transformative. You have made such a huge contribution to my life, and my family's life, and I am eternally grateful for this. The ripple effects of this work for us and future generations and the world they will live in are immeasurable." — A Parenting by Connection dad from Australia