Today after school was my six year old daughter's time for Special Time. I knew Special Time would be important to her because her nine-year-old brother had spent the last two days sick and at home with me.
My daughter wanted to make cookies from the dough we had made the day prior. So, after dinner, we cleared off the kitchen table and put dough, rolling pins, and cookie cutters on the table.
It was a messy process. My daughter made some fresh spelt flour for rolling out the dough, and, sporadically, she would eat some of the flour. She gave me instructions on what to do with my ball of dough. She spread the flour over two spots on the table, but large amounts of flour also fell on the floor. Pretty soon, there was also a huge pile of flour in the middle of the table.
I wanted to say, I think that is enough flour. So I started to say, with a touch of sternness, "Sweetheart…" She looked up at me and paused.
Then I remembered it was Special Time, and I softened. "That sure is a nice pile of flour there."  She smiled and continued taking a lick of flour here and there.
After a bit, she decided she wanted to roll some cookies. She took out a ball of dough and floured everything. The dough was a bit sticky and stuck to her hands. She started licking the dough off her hands.
I cringed inside, thinking of the bad germs around our house at that time, when my son had been sick. But, again, I reminded myself that it was Special Time.
"Is that yummy?" I asked. She nodded as she looked at me to make sure it was okay. I smiled my approval.
Each time I reminded myself it was Special Time, I relaxed a little bit. It helped to keep in mind that there was a purpose to this mess, and, as much as I might be itching to clean it up, it was much more important that my daughter could experiment at will. And when we were finally done, it really didn't take long for me to clean up.
Afterwards, my daughter had a huge breakdown. She had to let go of her feelings about the fact that her brother had been staying home with me the last two days and that we had made unusual accommodations for him.
I know that our Special Time really made her feel safe. She pushed my limits, but I kept remembering how important it was that she be in charge. This created safety for her.
She cried for about 30 minutes on my lap about how life wasn't fair. After she released her big feelings, she helped take care of her brother by making sure he was comfortable on the couch. She was such a delightful child and our evening was so sweet.
Find out why Special Time is vital for building trust that creates strong and lasting bonds between parents and children with this free chapter on Special Time from our book Listen: Five Simple Tools To Meet Your Everyday Parenting Challenges. Now available in paperback, ebook and audiobook.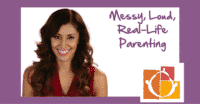 Do you want more suggestions on how to use Special Time? Check out our free video series. In the first video, you'll get a step by step guide to using Special Time and some fun examples of what it can look like. Get your videos now.
— Kristen Volk