By Andrea McCracken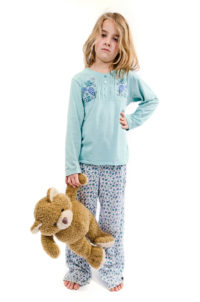 Usually my 3-year old daughter is quite agreeable and adaptable but she had been showing off-track behavior at bedtime for a few nights. What does off-track behavior look like? Playing at bedtime, or getting frustrated easily. Getting in and out of bed. That sort of thing.
Then, one night, we had an incident when she wanted to watch videos on my phone. I set a limit and said no, and she got extremely frustrated, kicking her feet and yelling. When I stopped her, she looked away and tried to hold back her tears.
Minutes later, I held her close and told her I loved her. That was all it took. She burst into tears and had a good cry for about 10 minutes. When she stopped, she rubbed her eyes and blew her nose, rolled over in her bed and was ready to go to sleep. She had released her pent up feelings and received a good dose of loving feelings to surround her as she dozed off.
Coming in close and sharing my love created just the safe space for her to release her pent up emotions, from the video incident and other recent events. I felt her comfort in being able to just release her big feelings with no questions or judgment, just warmth.
Andrea McCracken is a candidate in the Hand in Hand Instructor Certification program.