How Can I Finally Stop My Child's
Repetitive Annoying Behaviors?
Do some of your children's annoying behaviors show up
time and time again?
This week Emily and Kathy are talking about a child's repetitive annoying behaviors that just will not go away. 
You've probably been there:
Yet another meltdown when you call breakfast and your toddler sees oatmeal, not cereal. 
Two kids who consistently squabble all the way to school. 
A child who cannot take a shower without screaming and crying. 
Why is it that no matter what you do you cannot conquer these repeat annoying, frustrating behaviors?
Find out this week. Discover why some kids dig their heels in about some things, and how parent responses can play a huge role in shifting these persistent behaviors.
 Tune In To Hear:
Overwhelmed, flustered or stuck? Why what you feel matters too – more than you think.
Matching expectations: Get in sync and you'll see breakthroughs with behavior
One thing you can do to stop behavior spiraling into a big power battle or meltdown
Why it pays to notice how your child asks you to reconnect (hint -> we often miss these important clues)
How flipping the switch on your own resistance brings big rewards: More ease, contentment and happy times.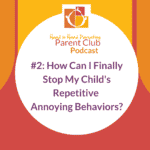 One Small Thing…
Every episode Kathy and Emily invite you to try one small thing with your family. This week, your mission, should you choose to accept it, is to get ahead of behavior. Listen in to find out why this is so helpful.
Mentioned In This Episode:
Take 10 Minutes To Turn Behavior Around: This post shows you one way you can get ahead of the behavior every day, and pump up the connection between you and your child. Read A Little Special Time In The Morning
Rate, Review, & Follow On Apple
If you would like more parents to find Hand in Hand Parenting then please consider rating this podcast on Apple podcasts. Your rating helps us reach more parents and support them as they invite more warm connection into their families.
Click here and tap to rate. Choose "Write a Review," and tell us what you most enjoyed about the episode. 
And then hit "follow" so you don't miss an episode. 
Prefer Spotify or Stitcher?
We publish new episodes on Tuesdays.
Get Emily and Kathy's support every day