Has your child ever lashed out and hurt someone? Has another aggressive child ever bothered him? If your answer is yes, join the crowd! Almost all of us struggle with understanding and helping our children when they hurt others, and when they are hurt by other children. It's a shock to us the first time our sweet sons and daughters suddenly bite someone, or throw something at the new baby in the family. Here are some guiding principles for understanding and relieving children's aggression, so they can relax and enjoy their friends and siblings. Read more…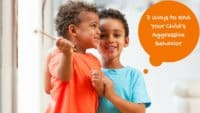 Are you looking for some more ideas on how to end aggressive behavior?
Get your free video tips now.
Save