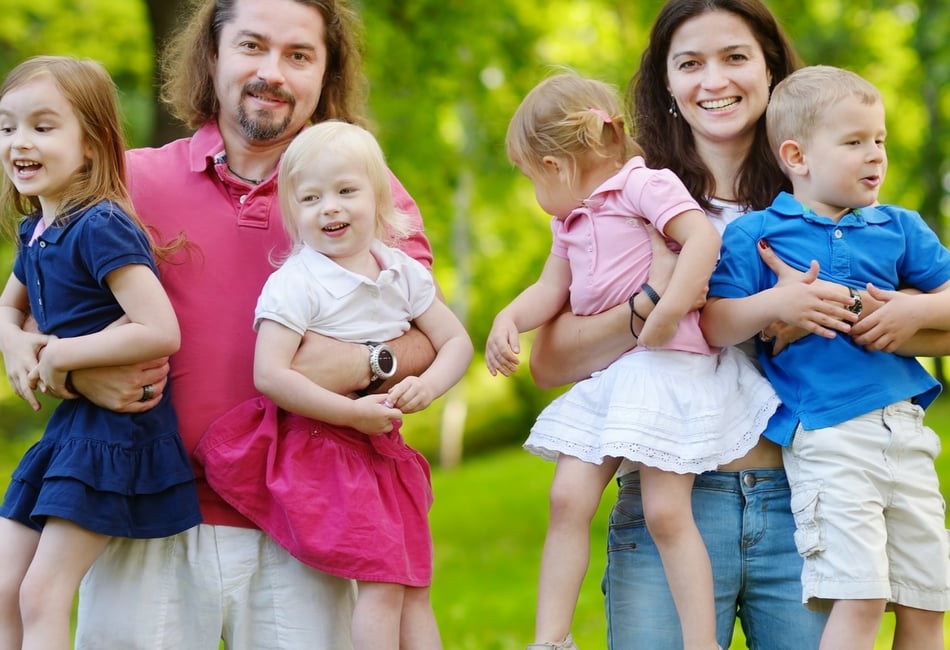 Parenting challenges multiply in larger families. The grocery list is bigger for sure. The laundry takes longer. And there's always some little person pulling at your hand demanding to be heard.
In her recent book Listen: Five Tools to Meet your Everyday Parenting Challenges, author and Hand in Hand founder Patty Wipfler outlines a set of five Listening Tools. Each of the tools works to bring families closer connections and foster strong bonds.
Living Large
One listening tool, Special Time, has parents devote time to one child, who decides how those moments will be spent. Another, Listening Partnerships, happen when two parents agree to switch time to listen to eachother's challenges and frustrations.
Playlistening allows the child to lead play with parents close by, and Staylistening promotes a children's need to cry to release tension and fear, also in the gaze of a supportive parent. Setting Limits, the fifth tool, is where a parent of caregiver gives a firm "no" to undesired action or behavior. That can often bring on tears that leads right back to Staylistening.
But spending quality time and lavishing attention on each child separately seems a luxury when even getting everyone's teeth brushed every morning takes serious planning. Seeing a tantrum through to its finish can take hours, and where does a busy parent find time to just play?
Patty honed the tools first through her own parenting, then in her outside work with children, and now, 40 years later, through the non-profit she formed, Hand in Hand Parenting, where online and in-person classes are run by their certified instructors. She says the tools have been used by families small and large to overcome almost every parenting challenge from separation anxiety to toddler biting.
"At first things will be very messy," says Patty, who has seen the tools at work in families with four, six, or even eight children as well as in professional childcare settings. "Each of the children will carry a "backpack" full of stored emotions, and at first, when one child cries, it will re-stimulate emotions in all the others," she says.
The result, a roomful of  bawling children "looking helpless and alone" can be daunting. Parents could spend a moment comforting each child with a word or two, Patty says. Statements like "I'll be here with you. I won't leave. I know this is hard, sweetheart, but you won't feel like this forever," she says, will help their stored up feelings release so that similar group outpourings soon diminish.
Parents shouldn't feel shy about adapting any of the the tools to suit their busy schedules. Using them even a little will go a long way to making each child in the family feel seen and heard. Here's some ideas on tweaking the tools to get started.
Tweaking The Tools
Special Time
Even a few minutes here and there can be beneficial. If you have an early waker or a night owl, there's room for Special Time. If one goes to pre-school, start doing Special Time on the way. Say, "We can talk about anything you want on the way to school." You might treat one child to five minutes special time while the others start on dinner. At times where another parent is around, try trading time, where they spend special time with one child, while you focus on the others. Or, designate one day each for one child, and find five minutes to spend with them on that day.
Playlistening
Parents follow kids' lead in Playlistening, and can work in small groups or one big group. Roleplays – anything from doctors and nurses to superheroes – are a good way for kids to voice out issues that might be on their minds, while largescale pillow fights and chase games promote laughter and physical release. Other times, parents should simply try lying on the floor (not the sofa or bed, Patty says). Lying down shows kids that a parent is relinquishing control for a minute or two. Whinging will cease and, as fascination takes hold, they will try to connect.
Staylistening
Sometimes parents won't be able to stop everything while their child cries. If you are rushing to get everyone to school or have other kids with immediate needs, regularly "drop in" on the upset child. Offer your love and support (see above for what to say), remind her that you are close, and give the reason why you must resume whatever task it was you left. Keep doing this until she feels better.
Listening Time
"The more stressed the parent feels when a child is crying, the harder it is for the healing process to work. So parents need good listening! Frequent listening!" says Patty. Try to fit in as much shared time listening to one another, where you can vent about the stresses, issues and your frustrations, even if this is just for minutes at a time.
Taking Time
Things will get easier, says Merav Besser, a Hand in Hand instructor that is raising four children using the tools. She recalls feeling frustration that she couldn't stay with her kids how she wanted while they tantrumed, and upset she had just minutes to spare for Special Time, compared to others.  "Ten minutes was a dream," she says. But she adapted tools as required and now life has changed.
"My kids are 7,10,13,16 and things look different. I find myself sometimes for an hour or more with only one kid at home because all the others are in a class or with a friend," she says.
"I remember waiting for these moments, and they finally came."
From the Hand in Hand Toolbox: