Two good friends and mothers we'll call Emma and Carol had been living 2500 miles on opposite coasts for several years now.
Carol finds her middle child, Cammy, deeply challenging. During Carol's last two months of pregnancy and first few months of Cammy's life, their family was suddenly without a place to live—a shocking turn of events for a mother about to give birth. She was also worried about having a daughter, knowing that it would be an emotional challenge for her. Carol has been working very hard to be on her daughter's side, but Cammy's response to stress has been frequent emotional outbursts that Carol doesn't find easy to handle at all.
She and her husband took Cammy and her older brother to DisneyWorld for the holidays this summer and looked forward to having a wonderful time. What could be better? Vacation in a children's paradise, with no work. There should have been nothing but play and fun to be had.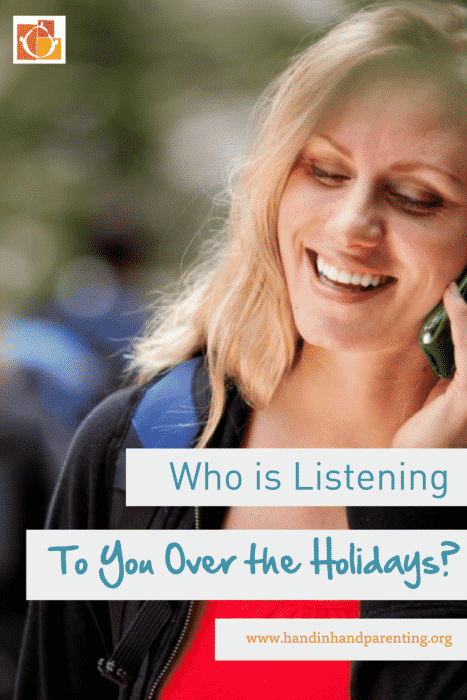 Anyone who is familiar with connection parenting, though, knows that children are prone to "Spoiled Outings" whenever parents become more available and attentive. Children will haul up their knots of stored unhappiness as soon as they see that times have eased for bit. Children (unconsciously, of course) expect that their parents will help them with their worst feelings. A child wants to steam, sweat, struggle and cry out those long-held upsets—they want an emotional spa! Why not? Better times have finally arrived!
Cammy's instinct to heal was plumped up by this vacation opportunity. She had full-on, writhing tantrums here, there and everywhere at DisneyWorld. No disappointment was too small to bring her underlying upsets to the surface.
Understandably, Carol felt angry that her family vacation was going sour, and that all the other families she saw seemed happy and hers wasn't. She texted Emma several times in the midst of Cammy's outbursts.
Emma says, "I understood exactly what was going on. I felt like she was asking, 'Just tell me what to do so I don't hit my kid right now!'"
Emma sent back messages, not with advice or pity, but with, "What do you feel like saying to Cammy? What do you feel like doing?" When Carol responded mildly, Emma texted, "Come on! What do you REALLY wish you could say or do? Fill in this blank! 'You _____ little ______! I just want to ____________you right now!'"
Emma knew Carol needed to blow up, but not at Cammy.
Carol filled in the blanks with some choice words. She felt Emma's support. Someone understood her. Someone knew how bad it was. Someone "got" that this was very, very hard for her. Emma gave her a way to show her own wild side, without attacking her child.
Ideally, there would have been time for a a righteous Mom's tantrum for a change, but this didn't happen. Still, Carol told me that Emma was a lifeline during that vacation. They texted several times during her DisneyWorld odyssey. She had an understanding friend, a nonjudgmental friend, a friend who knew that parents need to get big feelings off their chests, too, even if by text message at DisneyWorld!
Why Parents are The Best Listeners
These positive interchanges are how parents can find the courage to bounce back from trying times, says Patty Wipfler, author of the book Listen: Five Simple Tools to Meet Your Everyday Parenting Challenges. It is how we can help one another. "We parents are in the best possible position to reach out to one another with caring and a listening ear."
It's true. Who knows better how it feels to want good things for our children with a fierce, hot love, or how it feels to have a bad day with them, or a string of bad days, and to have no idea what will break that cycle of tension breeding tension.
Winter holidays can give parents an added layer of worry and strain, and when parents are preoccupied, children show the strain too. It's we need listeners more than ever, although they may be miles away, busy with their own families.
Hand in Hand instructor Anna Cole's top tip for the holiday season is to line up a few go-to "emergency" Listening Partners – people who are open to being texted or messaged at odd or irregular moments with an agreement that if it works mutually, you will take some spontaneous Listening Time by offering the gift of warm presence to another parent by phone or online whenever the stresses of the holidays come to bite.
We might be away far and wide across the holidays, but we can still be a powerful force for good in one another's lives.
Who do you have on speed dial?
From the Hand in Hand Toolbox:
Find out why Listening Partnerships offers such a powerful parenting stress relief in Listen Launch Post: What is a Listening Partnership and Why Do I Need One?
Find out how to work through holiday tension with your listening partner in 5 Ways to Deal With Family Stress During Listening Time